As many of you know, with time comes change, and when your business is thriving, growing, and flourishing, there also comes the opportunity to take things up a notch in order to move to the next level.
And when you have a vision in place for where you're headed, goals as mile-markers along the way, and helpful technology to advance your goals, you're well-set to move forward.
For a while, our team has been busy working to deliver the best online scheduling solutions to help your business do just that - move forward in getting more clients & booking more appointments.
We are happy to announce that we are changing our name to TimeTap.com
We're still the same team (the gang's all here!), same product and there will be no increase in cost. Additionally, your clients will not be affected by the migration, and you will also still be able to use your current web scheduling page. Here is how you can maintain the benefits of online appointment booking with TimeTap.
Besides the new name, we have been working for past three years to create an awesome new BackOffice application to simplify your daily tasks. This new application. You can login here with your checkAppointments username and password.
Maintain the Benefits of Online Appointment Booking
Manage your appointments with ease through TimeTap's simple to use interface for adding appointments, reviewing those that are open, closing appointments, rescheduling, and more. Like checkAppointments, you'll be able to view different appointment types by list, see your availability, and keep tabs on your day-to-day schedule.
Keeping track of your schedule is a must in order to have a peace of mind. And with our calendar view, you can arrange it so that you're viewing appointments or classes for one day, one week, or even up to a month. There's also an additional feature that will allow you to filter what appears on your calendar based on location, staff, and reason - more personalized views for less distraction.
And staying in touch with your staff is easy by either setting up their accounts or allowing them to set up their own to manage their busy schedules. Different security levels with certain features are available for staff members to avoid scheduling mishaps and issues. Also, you'll be able to see the times and dates that they can accept appointments so that there's less miscommunication and chances for bad planning.
New Features with TimeTap's Scheduling System
Additionally, there are many new features with TimeTap to provide you with advanced options for your scheduling needs. You'll be able to:
Sync with Microsoft Outlook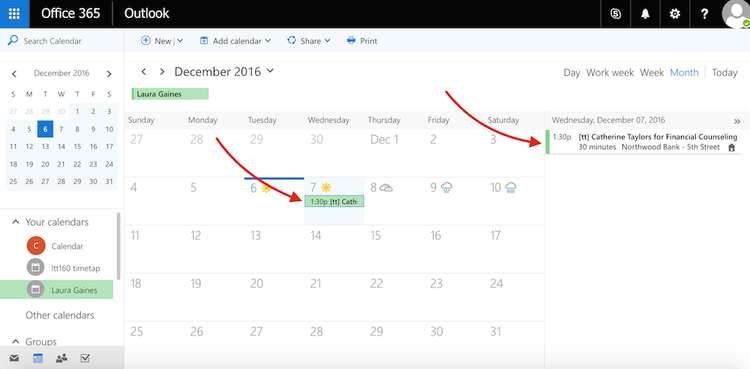 Want to be able to view your appointments on your Microsoft Outlook calendar? If you have an Office 365 account, with TimeTap, you can now sync your appointments directly to your Microsoft Outlook calendar and vice versa. No more checking your back office calendar and then adding those appointments to your Microsoft Outlook calendar separately. This is also helpful if you have multiple calendars through Office 365 and want to be able to view your back office appointments separately from your personal schedule.
Accept payments with Square and Stripe
Does your business use Square or Stripe to accept client payments? If so, there's no need to switch to another payment processor with TimeTap. We have several payment processors you can choose from that suits your needs. Simply add one of these payment processing portals, and you're all set. Decrease the amount of time wasted on no-shows by allowing clients to pay up-front so that they're ready to meet with one of your staff members for their booking.
Have support for multiple languages
If you have international clients or clients who speak a different language, they can choose their prefered language for communication and receive emails from your business in this language. By creating custom email templates in their language, they'll be able to receive confirmation emails, reminders, and other communications from your business effectively, thus enhancing their relationship with you.
Create email templates by scheduling reason

Let your voice stand out and keep branding consistent by customizing email templates based on scheduling reason. There are options to add images or graphics in the email for a logo, a promotion, or any other creative reason you might think of. Additionally, you can add links for sharing your website or even a survey for feedback. Whether it's letting clients know that their appointment has been confirmed or having a brief reminder sent out, you'll be able to let them know using your brand's voice.
Send bulk messages
Need to send a message out to 100 or more clients at once? We've got you covered. With bulk messaging, you can easily select up to 100 clients at a time and then choose the email template of your choice. So, if there's a promotion you've started and you want to get the word out or an important announcement about a change in one of your services or classes, the message can be communicated quickly with this handy feature.
Upload pertinent client information
Want to keep track of the conversations or meetings you've had with your clients? Or have clients complete a form to submit before booking their appointments? This can be done with our file upload feature. This is a handy feature if your business requires certain permissions or agreements prior to appointments. This is also helpful if staff members need to keep track of certain information regarding clients in TimeTap's back office.
Build custom exports with defined fields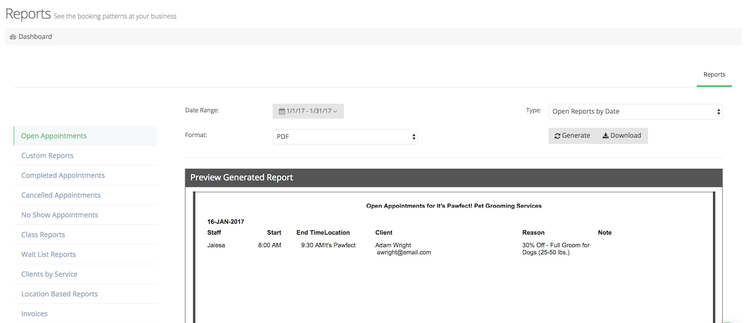 Custom reporting and keeping track of your business' appointments is simple and efficient with our reports feature. From exporting client lists for emailing to keeping track of class rosters or even importing pertinent client information into your CRM of choice, this feature will help you keep track of the data that matters to your business. You'll be able to download the information you've chosen as an Excel spreadsheet or PDF. You'll also be able to provide reports for your business meetings.
Help clients find your nearest location
Let's face it - if your business has multiple locations across different territories, it can be a little tedious scrolling through a list. Instead, our location filter allows your clients to search for your nearest office so that he or she can continue with booking their appointment. It's as simple as specifying the zip codes for your locations and then allowing clients to search while booking on your mini website.
Allow students to enroll in your program with courses
Your students can register for courses with less of a hassle (and no lines) through our course feature. This feature is ideal for when you're running a program or several consecutive sessions that students would have to complete. Additionally, you can screen course registrants based on certain criteria or prerequisites that need to be met before they can enroll. Once the course is full, then enrollment will automatically close so that you're not overbooked. Lastly, you can also control rescheduling for course sessions to prevent booking mishaps.
Make sure everyone's covered by creating resources

If any of your staff members share rooms or equipment, our resource feature helps to ensure that everyone is taken care of for appointments or classes. Having an appointment scheduled with a client and no available room to use is frustrating and embarrassing. You can prevent this from happening by assigning resources for the services or classes that they're needed - all while making sure your clients or students have a great experience.
And those are several of the new features that TimeTap provides for your online booking needs. If you'd like to learn more about our features with explanations and walkthroughs, our documentation can help with stepping you through the essentials.
The door for exploring new opportunities and taking your business to the next level awaits.